The Procoal Marine Moisture Sheet Masks
This blog uses affiliate links and banners. If you purchase something from them I will receive a commission at no cost to you. I am part of the Amazon Associates program. As such, I receive a commission on qualifying products.
Booey and I love a good face mask. We have tried a lot of them! Face masks are something that we can do together, its great mother and daughter time (or son, though not been able to get Ben Bob to join us yet lol.) But we have never done a sheet mask. The sheet masks we see in the shop always seem a bit expensive, so we stick with the store brand "liquid" ones mostly.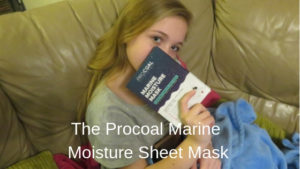 The Procoal Marine Moisture sheet masks looked like a great sheet mask for Booey and me to try. They are free from Parabens, pigments, silicones and mineral oil and are cruelty-free. The sheet masks are also suitable for all skin types.
They claim to nourish and hydrate the skin and diminish the signs of aging, just what I need! Booey and I both needed a bit of a moisture burst for our skin, the cold weather and central heating hasn't been great for it.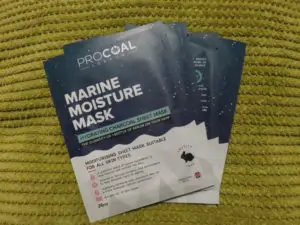 You get 4 masks in the box and there are full instructions on the back of how to use them. The instructions were easy to follow which is good for someone like me who doesn't know what they are doing at the best of times. I read through them before we started and Booey read them out as we went along as I couldn't see as I had to take my glasses off.
The masks were a bit bigger than I was expecting (or maybe Booey and I have tiny faces!?!) and were dripping with moisture. As they were so wet it did take a bit of maneuvering to get them in the right places on our faces, and even then I managed to misplace it over my mouth so my upper lip wasn't covered lol.
This is really not the most flattering photo of me, but this is what the sheet mask looked like on. You leave the mask on for 15 – 20 minutes then take it off. Then, any remaining "liquid" on your face you massage into your skin. There is no need to wash it off and you can use your normal skincare products after.
My skin felt really nice after using the sheet mask. It wasn't dry at all. I felt like I had just had a really nice facial at a salon. I can't wait to use them again.
You can buy the Procoal Marine Moisture Sheet masks from the Procoal website here. Procoal also does a range of natural and vegan shampoo bars and teeth whitening strips.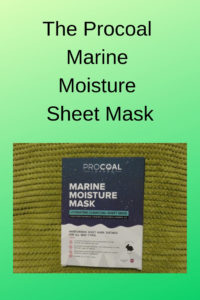 Check out my latest empties post to see other beauty products we have been using here.
Take care everyone.
Disclaimer: I was sent the Procoal sheet masks for the purpose of this review. All opinions are my own. This blog uses affiliate links. If you purchase something through them we will receive a commission at no cost to you.