6 Ways to Look After Yourself This Summer
This blog uses affiliate links and banners. If you purchase something from them I will receive a commission at no cost to you. I am part of the Amazon Associates program. As such, I receive a commission on qualifying products.
With the temperatures on the rise here in the UK, it's important to understand how to look after yourself in the Summer months.
Even though England isn't known for its warm or sunny weather, you still need to be sensible if you're spending time in the sun.
Whether you're heading out abroad this year or you need a few ideas to stay safe on the red warning days, I've put together 6 simple ways to look after yourself this Summer.
1. Hydrate!
It goes without saying, but when it's warm outside it's so important to keep hydrated. In the Summer months, it's a good idea to take a water bottle with you everywhere.
That way, if you end up staying out in the sun for longer than expected, you're not dependent on finding a drink.
Make sure that you're hydrating constantly to avoid headaches and stay alert. If you don't fancy water, you could try refreshing juices or other water-based drinks.
Many of us like to enjoy an alcoholic drink in a pub garden or at a picnic during the Summer months. Remember that alcohol also dehydrates your body, so you need to be drinking water even when you're enjoying other drinks.
2. Apply suncream before you go out
One of the best ways to look after yourself during the Summer is to apply a high SPF suncream before you head out for the day.
Once you're out and about, it's more inconvenient to apply suncream, so making sure that you have a good covering will start you off on the right foot.
You should also apply suncream before you get dressed, to cover any spots that aren't completely hidden by clothes. You can then re-apply as and when during the day.
3. Get the right products
Before you head out into the warm weather, it's important to get the right products.
Load up on a high SPF, accredited suncream lotion so that you're ready for any time in the sun, and buy a big water bottle that you can fill up throughout the day.
You could also end the day by covering your body in the Almond Milk body butter from The Body Shop. It gives your skin long-lasting, nourishing moisture- especially when you've spent the day lounging in the sun.
I have a code for 20% off at The Body Shop to share with my readers. Click through my link and enter the code 21758 at the checkout to claim your discount!
4. Choose the best time to go outside
The recent red weather warnings here in the UK encourage everyone to be as sensible as possible. This means only traveling when necessary and avoiding the sun at peak times.
If you want to enjoy the weather safely, choose the best time to go outside. Avoid 12pm-3pm as this is the warmest time of the day, and make sure to stick to the shade whenever you can.
Looking after yourself in Summer is all about being sensible- and not taking any risks!
5. Wear a sun hat
A sun hat is one of the best ways to look after yourself in the Summer, especially when it's sunny outside.
It's not normally possible to put suncream on your scalp, so wearing a sun hat is a great way to protect the top of your head from those powerful rays.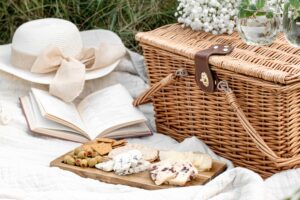 Wearing a sun hat can also help you avoid headaches if you're sat out in the sun, and many hats will protect your face and neck, too.
Team your sun hat with a pair of sunglasses to prevent squinting and protect your eyes from the sun on bright days.
6. Apply after sun in the evening
If you've spent a day in the sun, apply after sun lotion in the evening.
There are lots of different after sun brands to choose from, including moisturisers or refreshing aloe vera creams to revitalise your skin.
Similar to suncream, it's important to choose a brand you trust to make sure your skin is actually getting what it needs after time in the sun.
Let me know all your recommendations to look after yourself this Summer!