I have used some of the things from my Christmas stash in March. Finally I am getting through everything I have. But, knowing what I am like I will soon be buying more if I see something nice in the shops.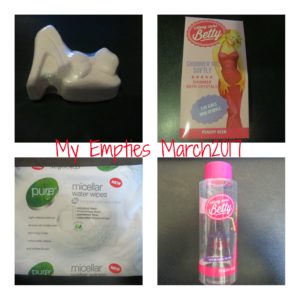 I have been using the Dove soap quite a bit this month. Dove soap has been a savior this month as my skin has gone really dry. I'm not quite sure why, but it is much better now. There are still quite a few shower gels in my stash, so hopefully I can start using those again now.
The Along Came Betty bath fizzer cam as part of a set I got for Christmas. The design of it is so cute. I actually broke it into pieces so I got a few uses out of it. It fizzed up nicely and had a lovely peachy smell. Booey also used a bit of this and she loved it.
The shimmer bath crystals are from the same set as the bath fizzer. Again they had a lovely peachy smell. They dissolved nicely so it didn't feel like I was sat in sand lol! Although these were nice, I prefered the bath fizzer out of the two. I don't usually use bath crystals as I prefer bubble bath, that might be why I wasn't too fussed on them.
The bubble bath in the set was definitely my favourite. I love a good bubble bath and this one was fabulous! It was really thick, which meant you only needed a small blob to get some really good bubbles. For a small bottle it lasted really well, I was really surprised! It smelt great too. The peach smell was relaxing and made me feel like I was really being pampered. I would definitely recommend buying this.
Last on my empties for March are the Pure micellar water wipes. I bought these in Poundland, they were 2 packs for a pound. Micellar water is something that I haven't tried, so when I saw these wipes I thought I would give them a go. I know they are micellar water wipes, but to me they were too wet. My face felt like it needed towel drying after using them, I really didn't like this. The smell of them wasn't to my taste either. My face didn't feel as nice after I had used these, but that might be as I didn't like the wet feel. I won't be buying these again.
There are a few things that I am using at the moment that are almost finished, so, I am hoping to have a great empties post for you in April!
What have you used this month that you have really liked?
Take care everyone.