I cannot believe it has taken until the end of May for us to get some lovely weather. The flip-flops will be out soon, so it's time to get painting the toe nails lol! I might even give bronzer a go this year (if I can work out how to use it without looking like I've been tangoed!)! So, hopefully over the next few months I will have lots of summery products to share with you all.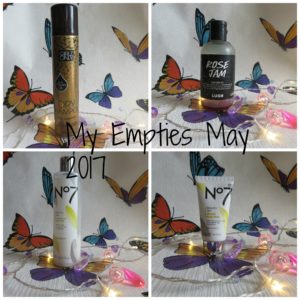 The warmer weather does mean that as much as I love a bath, I will be having more showers. I might actually get through more of my shower gel stash! I also have a few summery body butters to use too.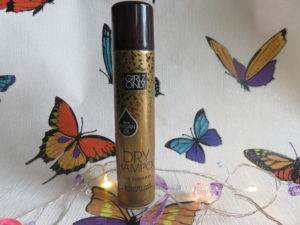 Now, I know I shouldn't use dry shampoo too much, but some days you just have too. It is great if I am in a rush to spruce my hair up a bit. I really liked this Girlz Only one. It contains Argon oil which is great for your hair and this was made for blondes. The Girlz Only dry shampoo made my hair look lighter and fresh, it also smells great. I have bought another one of these as I liked it so much. Plus it was a bargain at £1.50!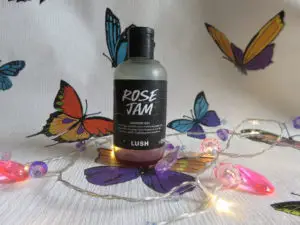 I got this Rose Jam shower gel from Lush for Christmas. I do love me some Lush products. The scent is divine. It is Turkish rose infused with argon oils. It has lasted really well. I have used other products in between as well, but still it lasted really well. The only problem I had with this is that it did dry my skin out a bit. It hasn't put me off buying lush products in the future.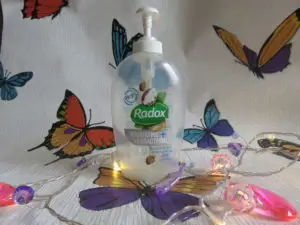 It wouldn't be an empties post without a bottle of handwash, and it's one of my favourites, Radox! What is even better is it has shea butter in it, another favourite of mine. As well as being antibacterial it is supposed to be nourishing. My hands did feel and smell very nice after using this. I just need to find it in a bigger bottle so it will last longer lol!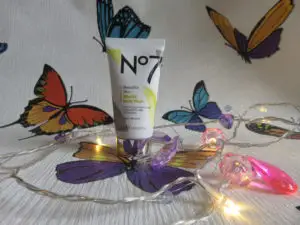 This little beauty came in the Boots No7 Beauty Advent calendar. The calendar was lovely and you will be seeing more products from that in future empties posts. The beautiful skin blissful body wash was lovely. It smells amazing and made my skin feel so good. It lathers up really well and you do not need to use too much at a time. I will definitely be saving my Boots points to buy more of this. If you want a bit of luxury try it!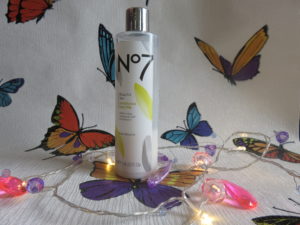 I don't normally buy expensive bath products (yes I am a Scrooge!), but last year I won a Boots gift card. Whilst browsing the store I saw one of those special boxes that Boots do now and then where you buy a set of products for a lot less than they usually cost. How could I turn that down! It has taken me a while to get round to using it, but this month I used the No7 beautiful skin sumptuous bath milk. It was heavenly! You didn't need to use much to get a nice lot of bubbles, and the scent made me really feel like I was being pampered! This combined with the body wash was delightful. My skin looks, feels and smells great. This was my favourite by far this month. I will be saving my pennies to buy more lol!
So that it what I have used this month, some lovely things I am sure you will agree. What have you been using this month?
Take care everyone.