I have had beauty Advent Calendars for the last couple of years. I started small with the Wilko one that cost a fiver. Last year, Hubby bought me the Boots No7 beauty Advent calendar. That cost quite a bit more at £40. But I loved it! There were so many lovely things in it, some of which I am still using now as I am such a beauty product hoarder lol! I was going to buy the No7 one again this year, but I read a blog post about all the calendars coming out this year and saw the Soap & Glory one. I knew I had to have it!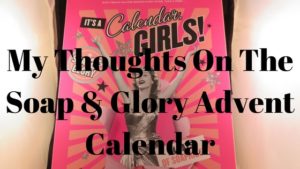 The calendar itself was difficult to get hold of. I went instore on the day it was released and the staff had no idea about it. And lookingon the website it wasn't on there anywhere. I was more than a little frustrated as I had seen pictures on social media of people with them! Eventually they popped up online and I got one delivered to my local store.
I was so happy when I finally had the calendar in my arms. I literally squealled with delight! Maybe a slight over reaction, but it's not often I get something so lovely for myself.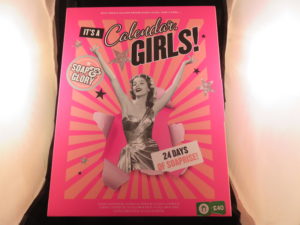 What I really liked about the calendar was the fact that there was a mix of bath and make up products. I love both! It was really nice to have a mix of things to look forward to.
As well as being filled with lots of lovely treats, the calendar looked really pretty. I am not one for pink and pretty, but I was sucked in by this.
Previously I Have used the Soap & Glory Hand Food hand cream and really liked it, so I knew that I was going to love everything that I was going to get.
Included in the calendar were:
2 clean on me shower pods
2 rich and foamous shower and bath wash pods
2 sugar crush fresh and foamybody wash pods
The scrub of your life body buffer
Righteous butter body moisturizer
Hand food non-greasy hydrating hand cream
Heel genius amazing foot cream marvel
One heck of a blot instant perfecting power primer
Thick and fasthigh-definition collagen-coat mascara
Sexy mother pucker 3d volume lip shine gloss stick in nudist and pink-a-boo
Sexy mother pucker matte lip 3d colour and sculpt in chocco berry
4 Crazy sexy kohl twist-up eyeliners in smoulder, what a night, foil in love, grapevine and cocoa bean.
3 Pillow plump lip glosses in clearvoyant, nude in town and pinkwell
Soap and Glory branded tweezers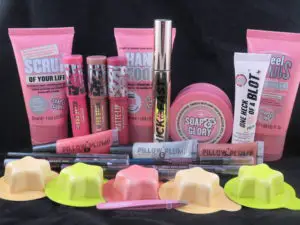 As you can see it all looks amazing. I have used one of the clean on me shower pods and was surpised at how well it lasted. The pods dont look big, but the shower cream is thick so I managed to get three showers out of one pod (yes I know I am cheap! LOL!).
I love the matte lip and gloss sticks. The colour is really nice and it lasts well and didn't dry out my lips at all. I have yet to try the Pillow Plump glosses, they are supposed to make your lips look plumper and tingle when you use them. Could be intereting!
All in all I am very happy with everything in the calendar. I think for the products you receive it is good value for money. I was so impressed that I managed to get hubby to buy me some of the full size products for Christmas!
Next year I will definitely be buying another beauty calendar. I will wait until I see all the ones available before I decide which one. But if Soap & Glory do another, I will be VERY tempted to get it!
Take care everyone.
Disclaimer: This post may contain affilaite links.