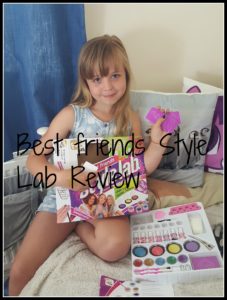 Now that my daughter is 11, she is really getting into making herself look nice. She is quite a girly girl and loves watching make up tutorials. I knew she would love the best friends style lab.
The style lab comes with bits to do glitter tattoos, nail art, and hair chalks. All things that most girls her age love. The instruction booklet is very easy to follow, I didn't need to help her do anything in the box.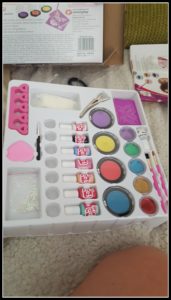 The first thing she wanted to do was to try out the glitter tattoos (and if I am honest, so did I). There are a lot of stencils to choose from and 5 coloured glitters. You carefully place the stencil on your arm (or wherever you want the tattoo), making sure there are no air bubbles underneath. Next you paste a layer of the special glue over the stencil (don't use too much!). Then you brush over your chosen glitter and then peel off the stencil to reveal your design.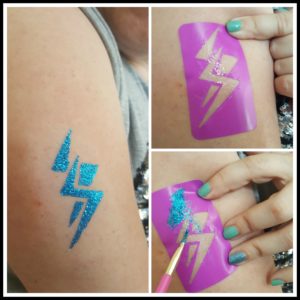 This was actually a lot quicker to do than I thought it would be and it looked great.
There are a few nail colours in the box. A lovely mix for you to create designs on your nails using the nail art brush in the box. There is also a nail file and toe separators so you can really pamper yourself. I love that the box was designed so that you could stand the nail colours up steadily while you are using them.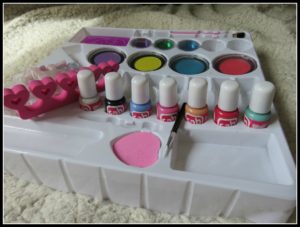 The hair chalks come in 4 lovely bright colours. There are gloves in the box so that you do not get chalk over your hands. And a hair clip so that you can separate your hair when adding different colours. My daughter has made a video showing the basics of how to use the chalks.
This is a really fun set and I would definitely recommend it. The only problem I have is that she wants more of the sets now lol.
The Best friends style lab is available on Amazon through the link below (click on the picture).
Take care everyone.
Disclaimer: This post contains affiliate links. If you purchase something through these links I may receive a commission at no cost to you. I only recommend products that I have used or really believe in.