Saturday afternoon we headed down to Poole Quay for Harry Paye day. It was started by the Pirates of Poole, who are a community group who keep the maritime history of Poole alive. They hold events to raise money for local charities and causes. They first put on Harry Paye day in 2006, and it was so successful it is now a yearly event.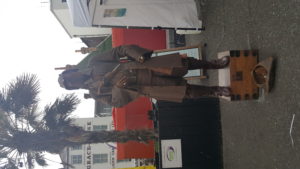 Firstly, a bit of information about Harry Paye himself. Harry Paye was notorious in as a pirate in the 15th century. The Spanish marked him as a thief (The french did not like him much either). He is thought to have stolen a gold cross from Church of Finisterre. This is just one of the many tales of his pirating.
Unfortunately, we missed the pirates parading down the quay due to having to park in one of the high street carparks as the quay one was very busy. But as you walked around the quay there were many people in pirate dress, a lot of them very authentic. There were lots of children dressed up as there was a pirate dress up competition.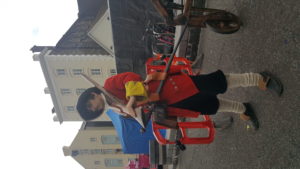 Along the quay there were various stalls, games and raffles to join in with. The most we came away with was a few sweets, but most of the stalls and games were quite cheap so we didn't mind spending, plus it was for charity.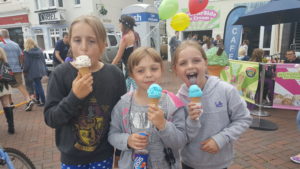 My daughter and her cousins enjoyed some Dorset ice cream.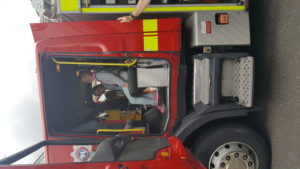 As well as having fun in a fire engine.
There was a man statue performer (not really sure what you are suppose to call them) whom gave the girls a doubloon when they put some money in his hat.
The was a little show where there were some naughty pirates who were caught by the guardsmen and handcuffed. Cannons and guns were also let off at the end of this. The girls were talking to the pirate afterwards and he asked them if they wanted to sail with him and scrub the ship decks, this amused them greatly.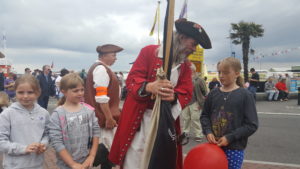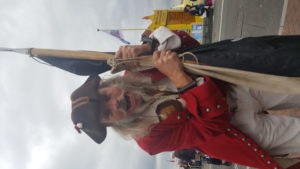 There was a band playing (spiderpig, rock music), all the members of the band were dressed in pirate attire which we thought was a nice little touch. We adults were enjoying watching this, but the girls very quickly tired of it and wanted us to move on.
All in all this was a lovely afternoon out. It was something a little different and fun. The girls really enjoyed it and said they would love to go again next year. I would definitely recommend this for a family day out.
Take care everyone.