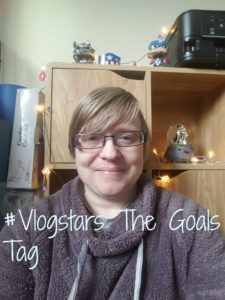 This is my second post as part of the #Vlogstars linky. I was so busy during December I just didn't get the time to join in on that one.
I have already written a post about my goals for this year a couple of weeks ago, but I thought it would be good to join in and make the video about my goals and to let you know about a couple of good little things that have happened since writing that.
It will be no surprise to know that most of my goals are blog/vlog related. I know this year is going to be a great one for my blog.
So without any further ado, here is my video.
Sorry that I rambled on a bit in this video, I am working on how I put myself across in videos, but this is me, a rambling weirdo lol.
And, as you can see I have finally worked out how to make thumbnails for my videos, I just need to remember next time to have a landscape picture not a portrait one lol.
I have made a tiny bit of progress on my goals and I am really happy with that. Just imagine what I can do over a full year.
Take care everyone.